Search Knowledge Base by Keyword
Overview
This document details how to add a new floor plan to a property on your site.
---
Requirements
You must have RentPress installed, at least one property created, and a property code entered for any properties you have.
Helpful articles:
---
Create a New Floor Plan
Once activated, RentPress creates a custom post type in the wp-admin area named 'Floor Plans.'
Navigate to the post type for "Floor Plans" and click "Add New" to get started. Enter the basic floor plan info in the "Floor Plan Information" area fields at the bottom of the page. Make sure to use unique numbers for "Floor Plan ID" and to enter the same Property Code you used when creating the property into the "Floor Plan Parent Property" field.
An image can be added via the Set Featured Image functionality, or by pasting a link to an image in the Floor Plan Image URL field.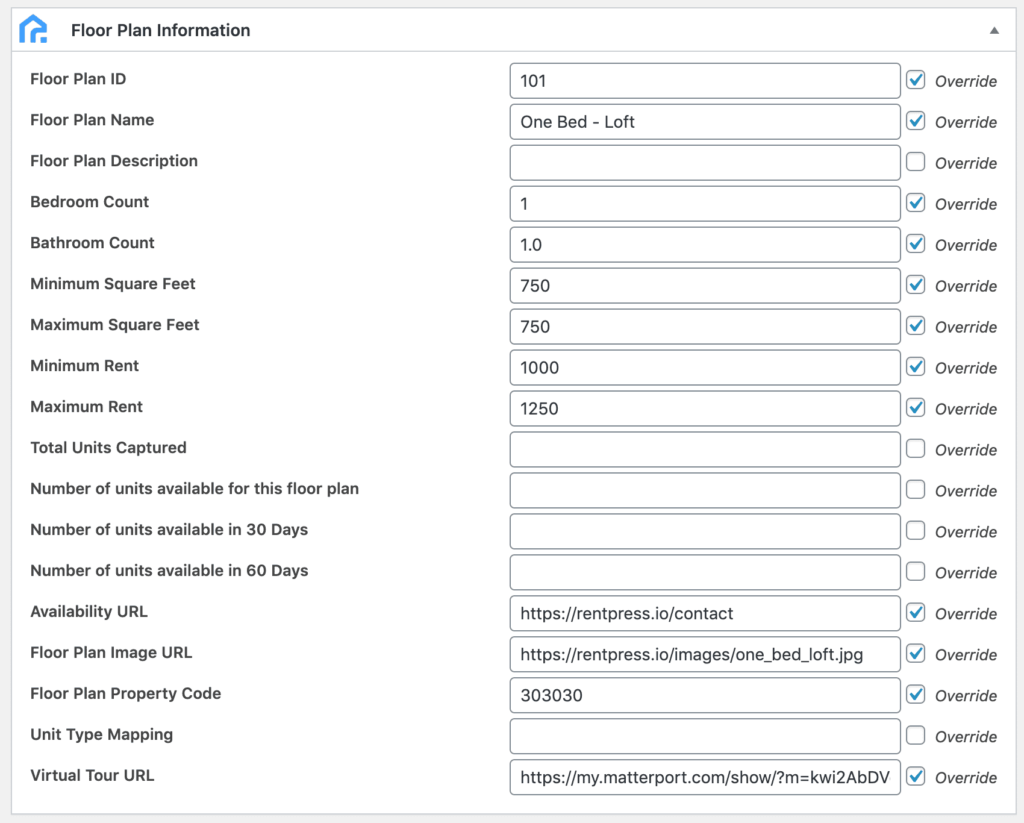 These fields are necessary for the best RentPress experience:
Tips
---
Floor Plan Image
There are two ways to display images for your floor plans:
The Floor Plan Image URL: This is useful for displaying images hosted off-site, and is used by the RentPress feed to display floor plan images from supported sources. This field will always be overwritten by any values from your data feed unless you enable the "Override" checkbox.
The Featured Image: This is a standard WordPress functionality and can also be used to display floor plan images. Setting a floor plan featured image will allow your site to provide an image to other sites (eg. social media, search engines) when the floor plan pages are linked. It can also provide a performance increase to your websites since it will load images from the same server. For these reasons, we recommend setting a featured image. Note that adding a featured image will override the display of an image from the Image URL field for all RentPress-provided templates.
For best results, we recommend at least 600x600px and no more than around 1500x1500px. Images will look best as a transparent .png file closely-cropped to the floor plan layout.
We also recommend optimizing your images through a tool like ImageOptim (online version), JetPack, or other tools.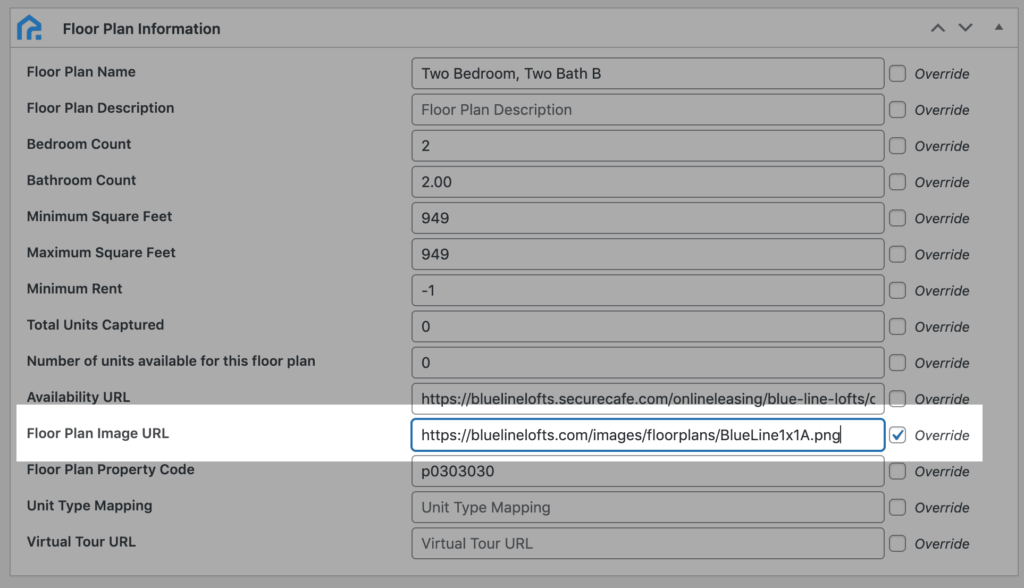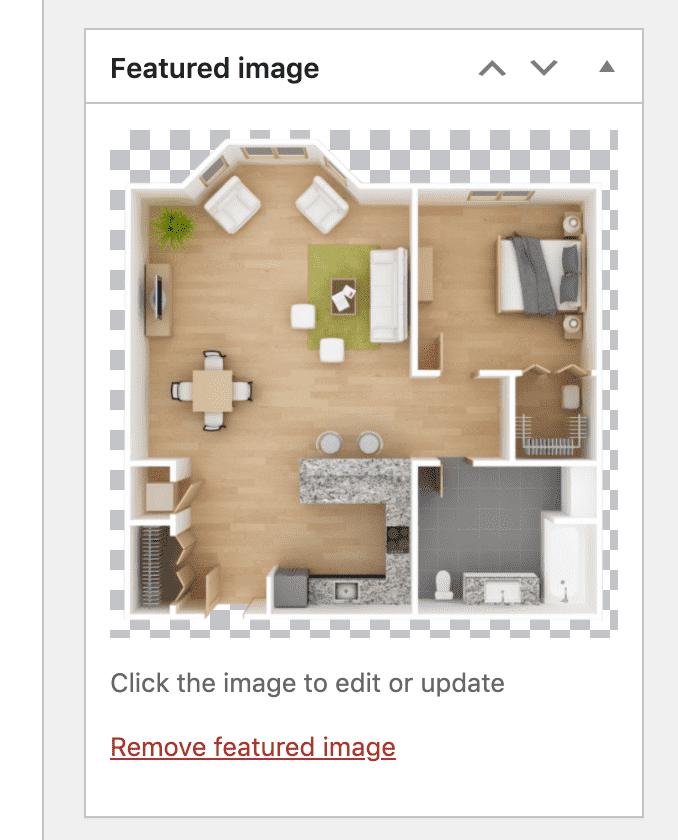 ---
Floor Plan Features
The floor plan edit screen offers a Features selector that allows you to highlight what makes this floor plan special. You can use this for any feature you wish. Classic examples include "Den," "Townhome," or "Penthouse," but you are free to add any features that make sense for your property like "Renovated" or "City View" or any feature that may differentiate one floor plan from another.
To mark a floor plan as having a feature, simply click the checkbox next to the feature you want.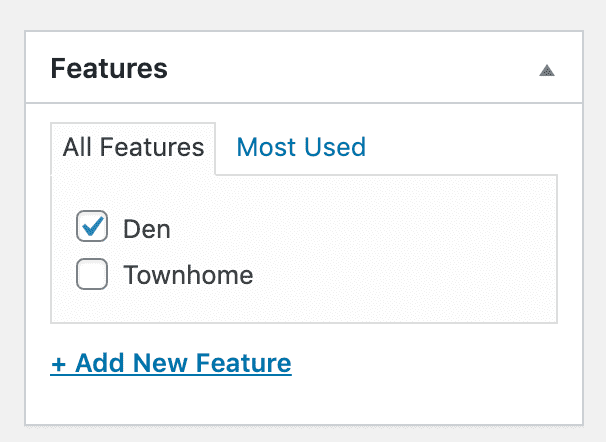 To add a new feature, click the + Add New Feature button. A text field will appear for you to type in your feature. Then hit the Return key on your keyboard or click "Add New Feature" below. Your new feature will be automatically added to the floor plan you are editing. When you're done, make sure to Publish or Update your floor plan. Your new feature will now be available to select on all other floor plans.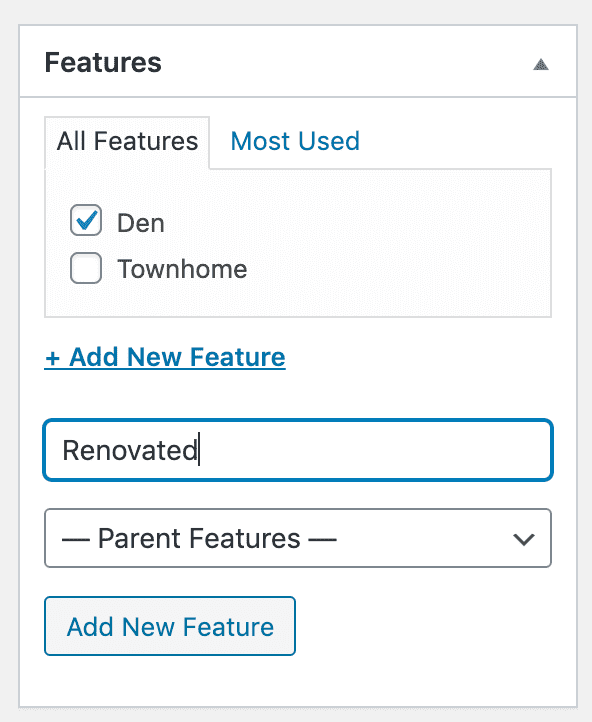 Once updated, any features enabled for any floor plan at your property will show up in the sidebar of the floor plans grid. This lets shoppers filter down to find something relevant to them.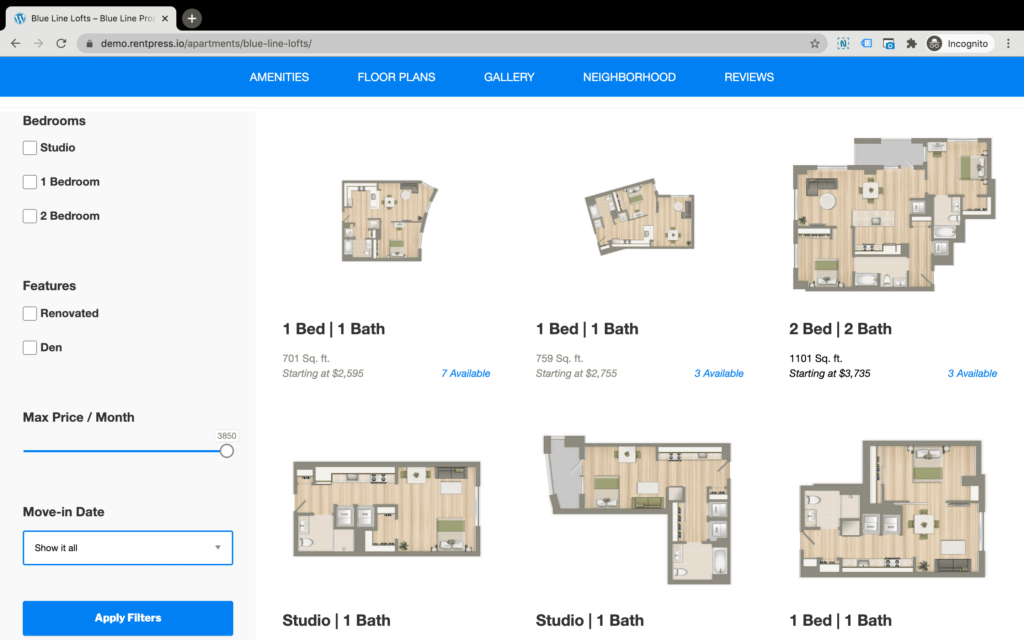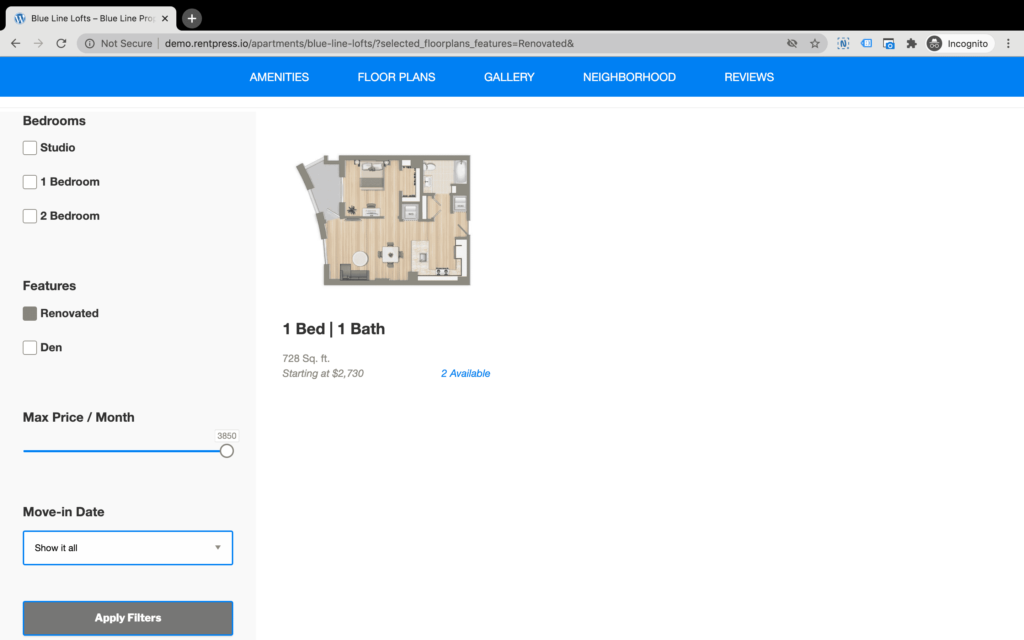 Finally, these features can be used in URL parameters on your pages, letting you make a "landing page" experience pre-populated with your chosen features. See the article about Search Page URL Parameters for more information.
---
Floor Plan Specials
When a property is running a special offer or discount on a specific layout, that offer can be added to each floor plan to advertise the offer. These specials also support links (even offsite) if you want to send shoppers to a page with more detail about the special. Finally, specials can also have an expiration date applied, after which they will automatically remove themselves from view.
In the "Floor Plan Special" infobox, type in the text for the special, and optionally add a link and expiration date.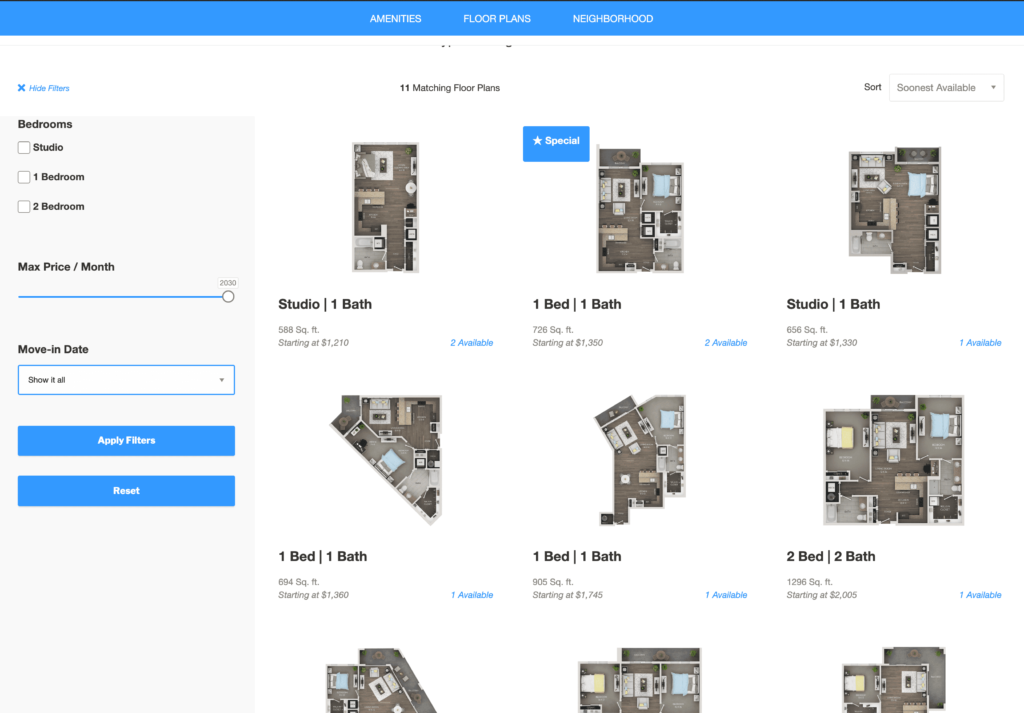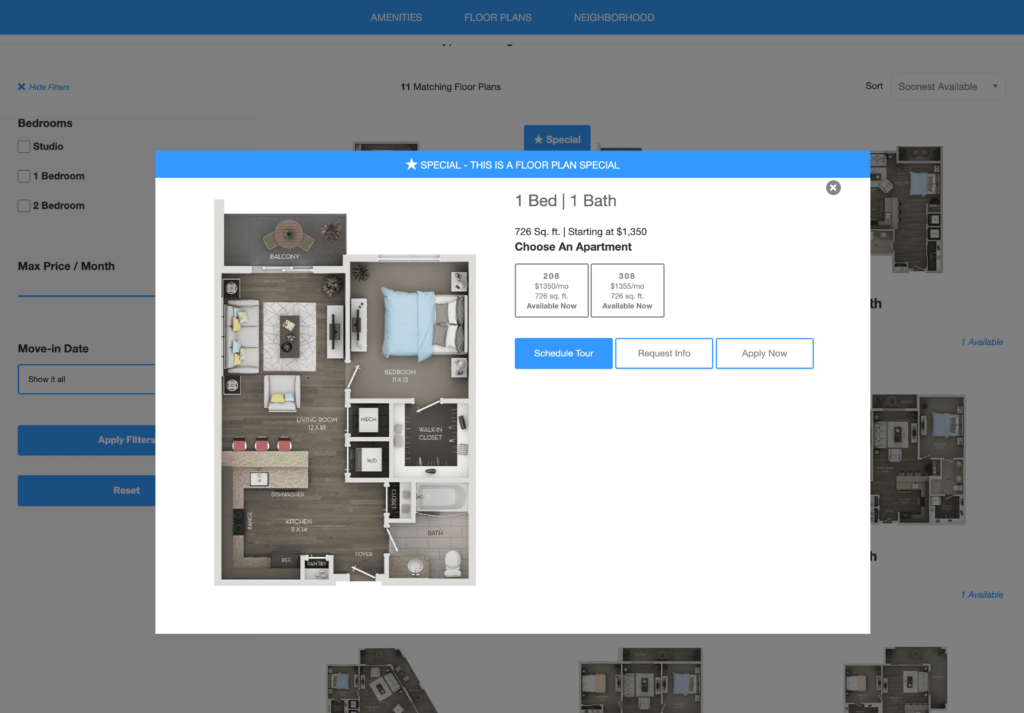 ---
Other Articles
---