Search Knowledge Base by Keyword
Templates Explained: Floor Plan Search
Overview
RentPress includes many templates to display data on your website and get started quickly. Each template features customizability and can be extended by adding content. Each template is designed to sit in between your site theme's header and footer and works best in a 100% width layout.
This article will explore the floor plan search template. It's important to know that the floor plan search template is based on the Floor Plan Search Shortcode. If you find that the search template doesn't quite meet the needs of the website, try the shortcode for more flexibility. Finally, note that using the shortcodes will allow for multiple search pages to fit your needs.
When added to your theme, this template will need to be assigned to a page on your site: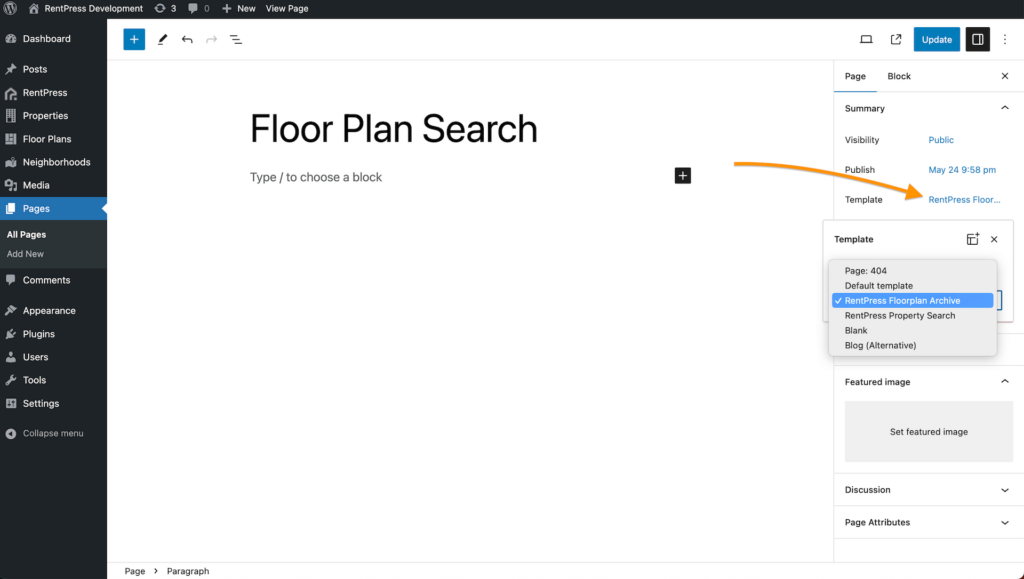 ---
Floor Plan Search Layout
Starting at the top, under the site header and navigation bar:
Filter and Sort Section
Filters
The floor plan search template will attempt to generate filters from the data in floor plans displayed in a sidebar layout.
These filters include:
Make sure to read the Shortcodes Documentation to learn about other ways to customize filters, including:
Sort
With default settings, floor plans will be displayed by availability, putting floor plans with the most available units first. Check the Shortcodes Documentation for other available default sorts.
Floor Plan Cards Section
Next is a list of floor plan cards that pass the selected filters (if any are applied). Each floor plan is represented by a floor plan card consisting of:
---
See Also