Search Knowledge Base by Keyword
There are many reasons you may want to disable the display of pricing on your website. Perhaps your data provider is experiencing an error, or maybe you want to keep the details of a specific layout under wraps for a period of time. You have a couple options in RentPress.
---
Disable Pricing Across an Entire Website
The quickest  – and broadest – option available is to turn off all pricing across your website.
Visit RentPress Settings > Appearance > Disable Pricing
Click the checkbox to Disable Pricing. For the included templates, this will replace the displayed price with the message "Call for pricing" instead. Or, you can enter in a custom message in the text field.
Optionally enter a message in the Price Disabled Message like "Call for Pricing" or whatever you like.
Click Save Changes.

---
Disable Pricing For A Property
If you're looking to target one property:
From your WordPress Dashboard, visit Properties > Your Property > Edit
Navigate to Property Editor > Info > Pricing, then click the Disable Pricing option
Click Update to save your changes.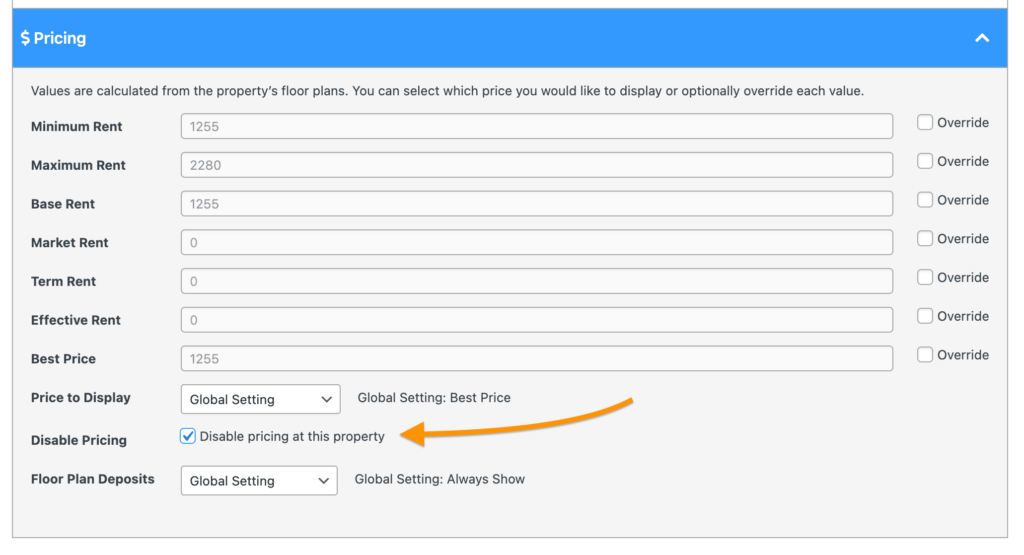 You'll see a Pricing Disabled message as a reminder in both the Property and Floor Plan lists in the WordPress admin.
---
See Also