Search Knowledge Base by Keyword
Connect RentPress License Key and Username
Please note:
This document is for all versions of RentPress, though the screenshots will show version 7 or later.
Overview
This document details the process for adding adding your RentPress License key and Username.
---
RentPress: General Settings
You can enhance your RentPress experience by connecting to real-time pricing and availability. Purchase a monthly RentPress subscription from 30 Lines to enable this function. Click here to get started. ↗️ Once your License key is setup and has been delivered, you'll want to connect your site through the plugin settings.
From the WordPress dashboard on your site, click on RentPress in the sidebar to visit the plugin settings pages.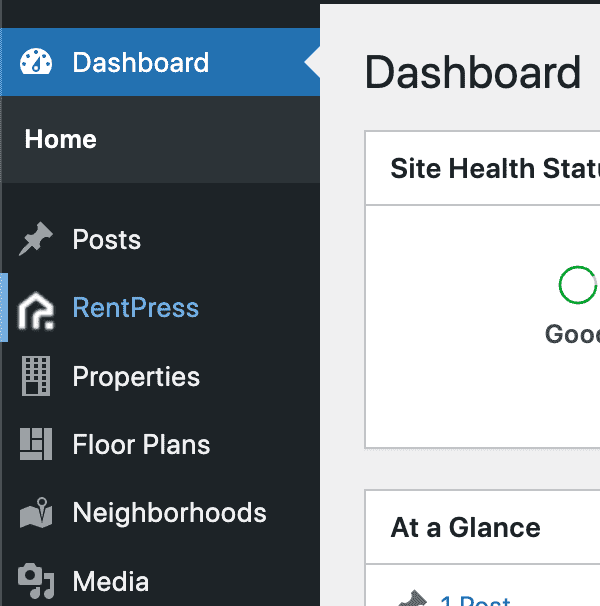 This will bring you to the RentPress: General Settings page. This consists of the following:
License Key is where you paste in your RentPress License key exactly as delivered to you.
Username is where you enter the username provided to you
Resync Pricing and Availability can be used to manually request the newest data from RentPress Sync. RentPress will automatically sync your data in the background, so this is usually not necessary past initial setup.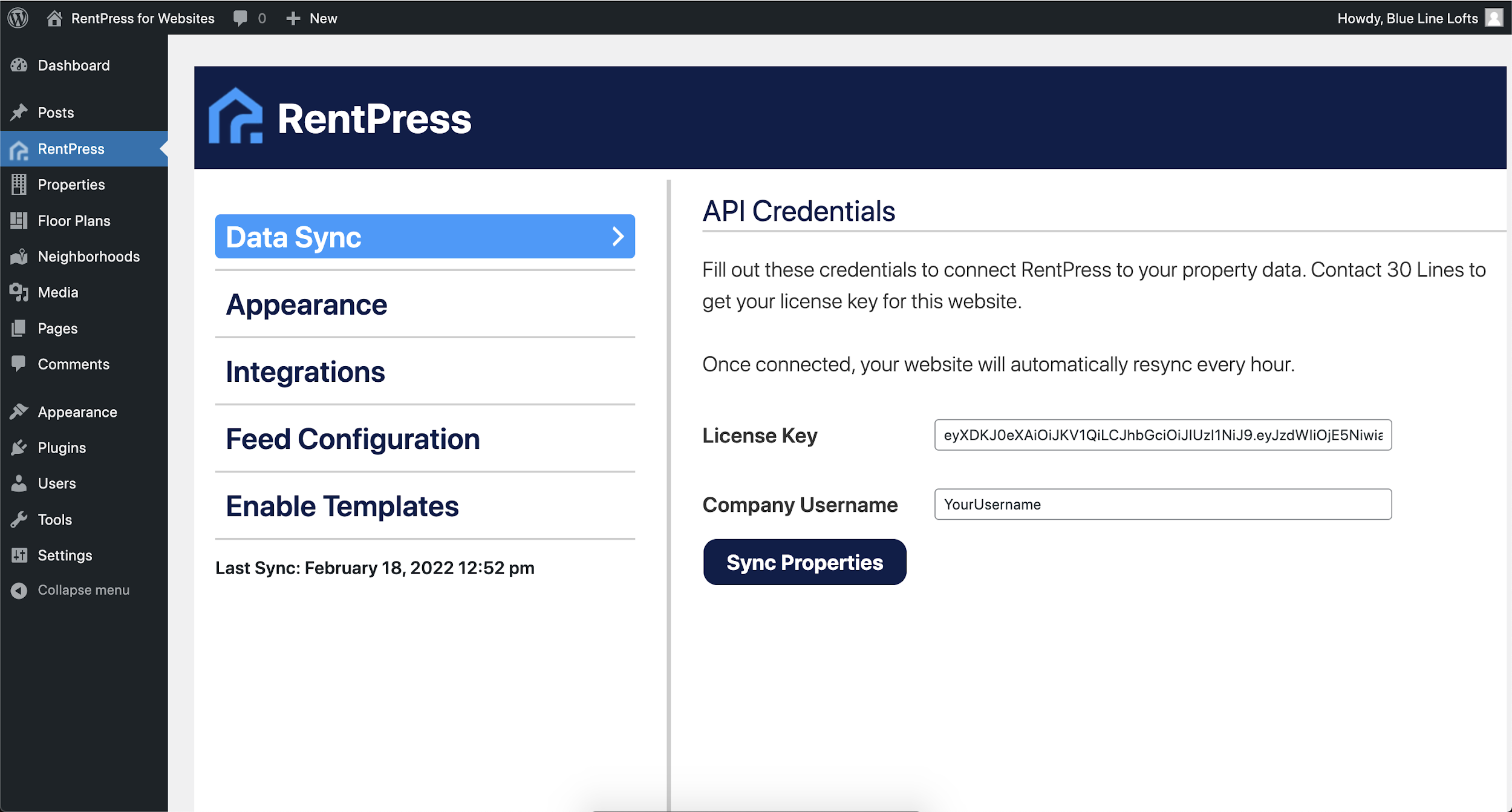 Single Property Site should be enabled if your website will have only one property on it. This can assist with overall site load speeds across your site and will enable the /floorplans/ grid template. (Version 6 or lower only)
You can also request a manual update to your pricing and availability from RentPress from this page if you would like.
Your license key will only work on the domain it is created for. Should your domain change (including http->https) you will need a new license key.
---
Connecting to RentPress Sync
To connect to RentPress Sync for the first time, you will fill out the RentPress Order Form ↗️ with your information. We will add the properties to our system and return an updated RentPress License Key for your site.
You will use the License key to sync your property information.
Visit the RentPress: General Settings page
Paste in the License key in the License Key field
Paste in the username in the Username field
Click the Save Changes button
Once the page refreshes, click Resync Pricing and Availability to start the sync. Once complete, new properties will be added to the site (under "Properties" in the sidebar) as drafts – they will not be published until you are ready.
Verify that the synced property information looks right, add any additional information you might want (this could consist of: featured amenities, gallery shortcodes, additional search keywords, and more).
Click "Publish," and your new dynamic listing will go live with real-time pricing and availability.
We also recommend checking out the Get Started With RentPress article to make sure everything else is set up as desired.
---
Updating Your RentPress License Key
If you are adding, updating, or removing a property from RentPress Sync, you will want to contact 30 Lines through your account manager and provide the property credentials or fill out the RentPress Order Form ↗️ with your new information. We will add the properties to our system and return an updated RentPress license Key for your site.
Once you have your new License Key:
Visit the RentPress: General Settings page
Paste the entirety of the key in the License Key field
Click the Save Changes button
Once the page refreshes, you can click Resync Pricing and Availability to force an update. Once complete, any new properties will be added to the site (under "Properties" in the sidebar) as drafts – they will not be published until you are ready.
Verify that the synced information looks right, add any additional information you might want (this could consist of: featured amenities, gallery shortcodes, additional search keywords, and more).
Click "Publish," and your new dynamic listing will go live with real-time pricing and availability
---